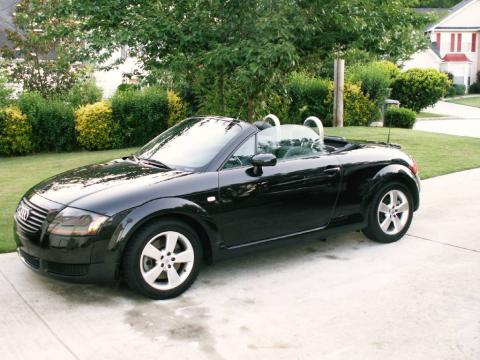 I have to admit that I was cajoled and coerced into getting into an Audi TT to test. It's not that I didn't want to drive one, more that I didn't want to jump onto the posing bandwagon.
So, it was my friend Jayne who finally convinced me to get inside Audi's popular sports car--by bombarding me with emails asking "Have you got the TT yet?". And I am so glad that she did.
When the 180bhp Audi TT Convertible Roadster Quattro turned up, it looked very macho with its slate grey paintwork and red/black interior. At first glance it seemed over the top but I quickly got used to it and was impressed with the quality of the materials.
As the sun was shining the first thing to do was to get the roof off--a process that involved releasing a catch and then simply pushing a button to watch the roof fold neatly away behind the seats. The cover for the roof proved to be a bit trickier and finally got the better of me.
Clambering into the TT proved an experience as the bucket seats are low slung with side lips that you have to manoeuvre over. But once in situ, I found it was certainly comfortable although for the more chunky build it could be a bit of tight squeeze.
There is a limited amount of seat adjustment but a good driving position proved fairly easy to obtain. Strangely, I found I was not sitting as low as I was expecting; higher than the MG TF or Mazda MX5, for instance. Despite my long frame, operating the pedals presented no problem and there was a lot of leg room to spare. It did feel a bit cramped in the cabin and there are only a few small storage cubbies.
The layout of the dash and control fascia is exceptionally clear with some natty touches like the twist/flick control for the heating and the neat fold-over aluminium plate for the audio system.
I felt obliged to visit Jayne especially as she had been in the inspiration behind testing this car. We decided to take a spin to Hastings on the Kent coast as the spring weather seemd to be holding.
Even fully loaded the power from the 1.8-litre turbocharged engine is sublimely smooth and although not one of the quickest cars on the road, it will still get you to 62mph in 8.2s, helped by an air divert system that eliminates turbo lag.
The six-speed gearbox with its short shift lever uses a wire cable mechanism to reduce transmission vibration. I did manage to crunch the gears a couple of times--which didn't help my pose factor--but in general they felt smooth and positive.